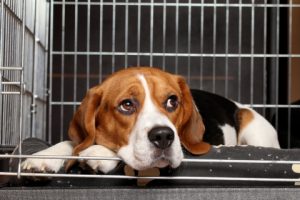 Leaving your pet can be difficult. Whether you're heading out of town on a business trip, vacation, or to visit family, as much as you'd like to bring them with you, it's not always possible. So when you're looking for a place to take them, you want to be sure that they will be well taken care of.
At Eastside Animal Hospital in Muskogee, our entire staff, from the employees at the front desk to the veterinarians, love and care for each and every pet that comes through our animal clinic. This is why we ensure that our boarding facilities are clean, and your pet is kept under constant supervision and given ample time for exercise and meeting their temporary neighbors. A few of the boarding amenities we provide include:
Large outdoor play area
Two leash walks a day
Food, water, and bedding
Air-conditioned kennels
We strongly recommend clients bring any special food or medications the animals are on. If you're unable to bring in their food, we provide Science Diet pet food. All pets must be free of external parasites. If external parasites are observed, the boarding pet will be given external parasite control. All cats must also have a FeLV vaccine yearly.
While we can't wait to provide your pet with unmatched animal care, there are a few requirements for you and your pet before you're able to utilize our boarding services. We ask that you complete the following forms before dropping them off"
Emergency Medical Treatment Release
Pet Care Agreement
We also ask that your pet is up-to-date on all of the required treatments and vaccinations to ensure the safety of your pet and the others as well.
DOGS
Rabies Vaccination
Distemper Combo and Leptospirosis
Negative Annual Fecal Exam and Heartworm Test
Bordetella Vaccination
CATS
Annual Health Exam
Rabies Vaccination
FVRCP
If you'd like to learn more about our boarding services, or any of the veterinary services that we provide at our animal clinic in Muskogee, or to make an appointment, give us a call now.